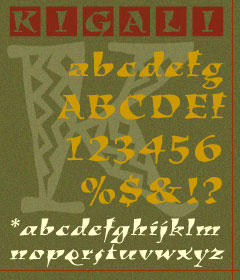 The font used in the Kigali logo was originally drawn by calligrapher Arthur Baker. This elegant yet powerful design was developed and expanded into a family of 8 typefaces by Diane Collier in 1994.

Because the letter forms had an African feel we wanted a name to match. I had a trip planned to Rwanda in June 94, but canceled after the horrible genocide that started in April, where nearly 1 million 'Tutsis' were slaughtered. We decided on "Kigali" in memory of those who died. A percentage of sales from the initial release of the fonts went to aid organizations. I hope to get to Rwanda or Uganda someday to see the mountain gorillas before they are gone.

About the font - Although primarily for display, Kigali also works well as text where it's impact and character make a bold statement. The Kigali family of typefaces consist of regular, italic, block and zig-zag designs and is currently available at many of the large type foundries.

Other Arthur Baker designs, which I developed into fonts can be seen here.

Contact Kigali Designs to purchase this font or other calligraphic fonts. Cost is $25 for each weight or $160 for the complete family.