WHY KIGALI ?
Fascinated with African Art (and obsessed with Africa since my first visit) I chose 'Kigali' after creating a font of the same name. Learn More about the Kigali typeface.

Africa, the cradle of civilization is the birthplace of all art. It's influence of 'primitive' or 'tribal art' can be seen in the works of many 20th century masters and continues to inspire artists around the world including myself. I try to create elegant, simple designs that will hold up with time.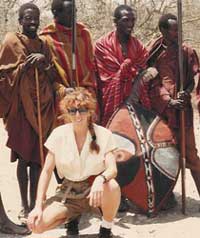 ABOUT KIGALI
KIGALI DESIGNS is a design and development company located in Massachusetts. With over 20 years experience, our expertise is in type design and development for a wide range of scripts/languages. It's founder Diane Collier has established a reputation in the industry for providing high quality work while developing long term relationships with companies like Microsoft, Ascender and MonoType Imaging. Other clients; software companies, graphic departments, academia and individuals. Diane also provides training in many of the industry's type development tools.

We also design websites and are dedicated to working together with our clients to create affordable on-line solutions. Our mission in web development is clean effective design with simple intuitive navigation. Whether it's a brand new web site or a fresh update of your existing site, let us help you define your presence on the web. Call for a free estimate.

<![if !vml]>

<![endif]>ABOUT DIANE COLLIER (founder Kigali Designs)
I started my professional career in 1988 as a type designer for Compugraphic Corp. in Massachusetts. Having majored in fine arts then graphic design in college, I found type design to be a perfect fit for my creative side and my structured type-A personality. I started Kigali Designs in 1998 doing freelance font work for Microsoft on a variety of scripts. My love for type, especially non-latin scripts grew. While I speak only English (and limited French & German) I really enjoy learning the alphabets and shaping rules of complex scripts like; Arabic, Tibetan, Thai, Mongolian and Indic scripts. I continue to work with Microsoft, other software companies and large type houses as well as individual designers and calligraphers world wide.

The web created a boom for graphic designers and I dove head first into this exciting new media. I went back to school where I learned html (using notepad) in an intensive web development certificate program. The standards are forever changing and I enjoy keeping current with the latest technologies. While most of my time is spent on the computer and I have less time to draw or paint, I still like to get my hands 'dirty' by teaching pottery at a local art school where I also serve on the board. The Essex Art Center offers a variety of art classes for both kids and adults. You can view my pottery and clay tiles on the faculty page.

When not working I'd rather be outside and stay active with running, hiking and swimming. My latest ambition is sailing. I'm now certified to charter my own boats and have sailed around the BVI. I try to escape every few years and have traveled extensively in Africa, Europe, Central and South America and a bit in Asia. You can see some of my photographs from various trips to Africa on the home page. I'm also a fan of world music with a collection from around the globe.

Read some testimonials about Diane Collier and Kigali Designs.